Utilizing SMS Capabilities to Effectively Communicate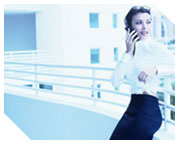 Everything we do at Quios, is done to ensure that our customers experience first rate services. Quios currently have over 40 large customers worldwide in a variety of industries and operating across different markets.

Operators: Quios is used by operators to expand their global coverage and generate revenues for incoming traffic. The operators increase revenues via additional MO traffic sent from their networks to new destination countries without having to deal with the intricacies of roaming agreements. Moreover, operators can opt for the option of getting paid for all incoming traffic when routing such traffic via Quios.

Broadcast Media: SMS is becoming an increasingly popular communication tool on both radio & TV. It provides interactivity for the viewer/listener through voting/polls/competitions, and can generate revenues for the stations/production companies. It is essential to have high capacity tolerance, especially for TV, as Quios does.

Portals/Content providers: SMS adds a further dimension to the offering of portals and content providers. It enables information alerts, ringtones and logos, sms sending facility for end-users, all of which can generate revenues for the company. Quios' high capacity and pan-European reverse billing capabilities make Quios the gateway of choice for portals and content providers.

Logistics: SMS is being integrated into all areas of logistics. It has application in Materials Requirement Planning (MRP), delivery tracking, and engineer communications to name a few. SMS enables immediate stock control, and important information/updates to reach its engineers any time. Immediacy is the key for logistics SMS services. Quios' high quality, high efficiency gateway guarantees excellent SMS services.

Marketing/Sales Promotion: SMS is being used as a new marketing channel. It's immediacy, directness and 2way communications lends itself to effective measurable marketing and promotion. Integration with existing media adds a new dimension to marketing campaigns e.g. outdoor, press, on-pack, direct mail. Our high capacity, global coverage, and 2way services mean that Quios is the provider of choice for many Marketing/Sales Promotion agencies.

Corporate: SMS has a number of uses within companies as an internal communication tool. Quios assists with email to text alerts, corporate info alerts, sales force update alerts, to name a few examples of its uses.

Other industries using SMS include banking, retailing, brokering, tourism, transportation, gaming, teaching, the list goes on.

Whichever sector you are in, we are likely to surprise you with the numerous opportunities to implement SMS services that generate revenues, add value to your offering, or result in cost savings. Why not contact us today to see if we can help? To discuss your requirements, contact sales@quios.net.




© 2011 by eWingz Systems, Inc. All Rights Reserved.